THE ART JOURNEY

Scroll down ... take a look and see how far an idea can come.


I think it's important for people looking at my current work to realize where these works came from. I haven't been exactly playing with clay in my basement all these years. It's been a long and tedious Art Journey, sometimes thrilling, filled with joy, and creative adventures ... and sometimes not ... lots of times not. This is Real Life, after all. Just because someone is good at making-doing one thing, it doesn't mean that same person is good at making-doing all things. And just because a first attempt falls really short of expectations, it doesn't mean we can't learn, move forward, and become better ... or at least closer to the place in our heads that tells us when a work is "there."

I think there is inspiration in seeing how unimpressive those first two leaf bowl attempts were. I think there is inspiration in knowing that I didn't get my BFA [Fibers] until I was 32 years old and didn't have a clay studio until I was 48. ART is a JOURNEY and sometimes it takes half a Life Time to get to the place where we can begin ... but that doesn't mean we shouldn't take the trip.

© Susan M. Sutherland Barnes 1997-2013
Link My 2012 Artist's Statement: "Finding Matthew's Garden"

FIRST PLUME POPPY BOWL
[FROM THE ARTIST'S COLLECTION]
Shown at the Noyes Art Gallery
Lincoln, NE
2000

FIRST ATTEMPTS AT CREATING A LEAF BOWL
[FROM THE ARTIST'S COLLECTION]

Pretty bad, huh?
And yes, that is the impression of a SOUP CAN there
in the bottom. Finding a solution for this obvious
design flaw became a FIRST challenge!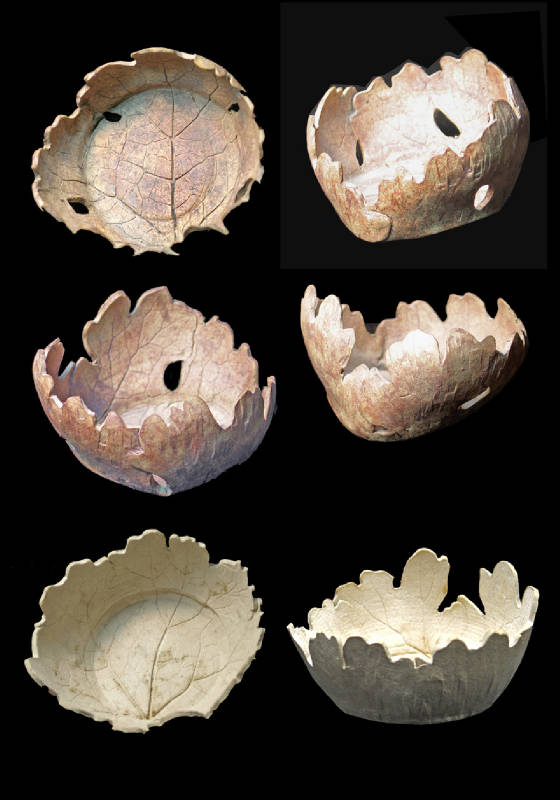 VISIT "A REAL BOWL FROM A REAL LEAF" TO FIND OUT
XXX